(This happy Moosedawg story is republished because it went missing from the blog, for some technoid reason.  FYI, the Moosedawg had to be put down last year. Sniff).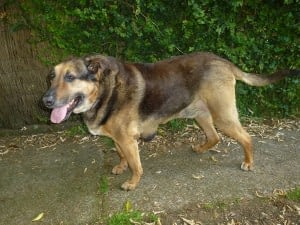 Last night, the ancient Moosedawg gave me the biggest laugh I have had for a long while.
He gave me his usual "WOOF", which means, "I have finished dinner and … I forget… stand-by…  Oh, right, I want in."
I was busy, so in a few minutes, the 100-pound Moosedawg gave me his hurry-up signal.
"WOOF. WOOF."
When I opened the basement door, he came happily prancing in with that facial expression a dog gets when he is really pleased with himself.
When the Moosedawg has had that look in the past, it was usually after he'd slammed into the front gate like the hounds of hell, and caused a passing dog or dog owner to make wee-wee all over themselves.
This time, he was pleased with himself because he looked really cool, wearing the latest Moosedawg fashion accessory…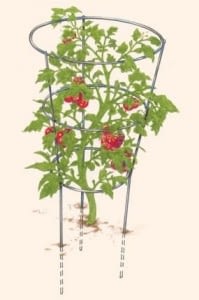 He had somehow walked halfway through the middle of the GM Finance's precious tomato trellis, and it got stuck around his rib cage.
The trellis' wire feet scratched against the concrete floor, so he sort of "sparked" as he happily pranced into the basement.
Now, I would give anything to have captured that Kodak Moment.  But saving the Moosedawg's life had to take precedence.
He wasn't suffocating or anything. But if the GM Finance had seen him WEARING HER TOMATO TRELLIS, he would be dead.
Dead. Dead. Dead.
You see, for most of his life, he has been in a battle of wills with the GM Finance.
For example, she believes blood meal is the best fertilizer in the world.  So, come hell or high water or the Moosedawg, she is going to use it in her much-loved garden.
The Moosedawg, however, believes that if he smells blood in the dirt, he is required by Natural Law to dig GREAT BIG HOLES until he finds a dead animal that he can either a) eat or b) roll on.
I cannot, in this brief blog post, express the rage that this has caused.  Trust me, it has been massive.  I still bear the scars.
I thought those days were gone. The old Moosedawg can't see well enough, and he doesn't have the horsepower anymore, to attack the GM Finance's garden, like he did in the good old days.
Even so, there is still one tiny place that he loves to dig.  So, of course, the GM Finance, in a strategic blocking maneuver, hammered her favorite tomato trellis into this prime real estate to stop Moose-digging.
Which sort of worked, when you think about it…  Because the Moosedawg almost certainly was prevented from digging while wearing the tomato trellis, like a straight jacket.
What I would give for that photo.
Click these links for  The Moosedawg's Last Dance and Death of a Good Dog
.