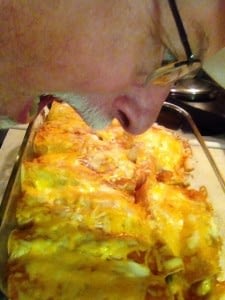 I've just finished my greatest vacation, ever, which was filled with miracles and beeg fun and TexMex.
How great? Let me count just 10 ways.
1. That egg-sized tumor in the brain of my best buddy's adult son actually turned out to be the size of a baseball. It was removed on June 18 at Houston's M.D. Anderson, and this young man walked out of the hospital on June 20, with no side effects or any need for chemo or radiation.  Honestly, I've been around a lot of miracles, but nothing, nothing, like this. Thank you, Lord.
2. 72 hours later, I was back in OKC.  My grand-niece, Claire, had decided to make an early splashdown in honor of her Great Uncle's visit.  All 5 pounds, 11 ounces of her was wonderful, beautiful and perfect. Thank you, Lord. (Prepare for another blog on this… Here you go).
3. My buddy (see item 1) now calls me "Miss Congeniality" because it seemed like everyone at our 40th Norman High School reunion wanted to say hello to a felluh who had been away for 40 years.  It was sort of a surprise and really, really good stuff.  Thank you, Lord.
4. My grand-niece's early splashdown (see item 2) allowed her Mom to donate her maternity pants to me, which were essential to my relentless assault on the state's supply of TexMex. I didn't quite meet my goal of weighing 900 pounds when I left 'Merica, but I was no more than an enchilada short. Thank you, Lord!
5. Other than my family, and TexMex, not necessarily in that order, the biggest thing I've missed while living in New Zealand since 1993 is big ol' Oklahoma thunderstorms. I knew there was no chance of getting a real thunderboomer in late June, but I got one anyway. It even included a massive lightning strike no more than half-a-mile away that generated a cracking thunder BOOOOOOOOOOOOOOOOOOOOOOOOOOOOOM that was so loud I broke into war whoops, and my brother-in-law levitated backwards up the porch steps. Thank you, Lord!
6. I didn't have to miss the Crack Puppies back home because my Vet Tech niece (see item 2 and 4) also babysits dogs.  I got to play with an awesome German Shepherd that looks exactly like my old "Champ".  And when a four-month-old boxer puppy named Abby, whose legs are so long she looks like a cartoon character, leaped unannounced into the wading pool, the priceless expression on my four-year-old grand-niece's freckle-face said this is the best thing ever! Thank you, Lord.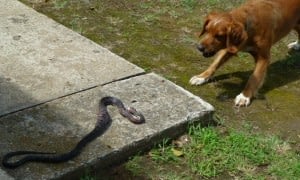 7. Not to be outdone, Katy, my sister's Irish setter/Brittany pup, proved that being country smart includes telling the occasional doggy lie. Katy's job is to police the property and, when she smells a snake, to give the unmistakable "Snake Bark" she developed after getting snake bit awhile back. My brother-in-law then gets the 12-gauge or a shovel and commences to de-snakify the property.  Now, Katy knows good and well that my sister's garden is a safe haven for eco-friendly lizards, and that they shall not be munched.  But, every now and again, Katy gives the Snake Bark and commences to madly dig while my brother-in-law kicks the barn's metal skirting.  When out pops a lizard, just like lightning, Katy munches it, then gives you a look that says "Sorry, I thought it was a snake. I swear." For the record, Katy has also munched trespassing possums and a raccoon. I hereby nominate her as the Official State Dog of Oklahoma because she is all kinds of awesome. Thank you, Lord.
8. My gardening-crazed sister, see item 7, who, despite being really pissed off at the Official State Dog of Oklahoma for chomping her blue lizard, together with our middle sister, cooked up the greatest chicken enchiladas ever made by Potawatomies in the entire history of the great state of Oklahoma. And, to my sisters' credit, they did not take offense when their baby brother did a swan dive right into the casserole dish (photo above) and did not come up for air for 30 minutes. Thank you, Lord.  Burp.  Excuse me.
9. On the Fourth of July, I got to see pure joy when my Buddy's youngest grandson got his first ever sparklers.  There is nothing better.   Later on, my Buddy, his missus and I got to sit in their brand new boat, anchored in their driveway in rural Oklahoma. We commenced to drink whiskey, tell tales and watch fireworks until the wee hours. Thank you, Lord for the fireworks (and for the Panadol the next morning).
10. My best buddy, see most of the items above, is John Wayne, the original alpha male. Really.  So you will understand why the abiding memory I have of my Great 'Merican Vacation is from when he got into a game of pepper with his eight-year-old grandson. It soon escalated from a game of catch into a raging game of battle ball, with neither the old bull nor the young bull willing to give an inch.  When the youngster launched an absolute Nolan Ryan fastball that pegged his John Wayne granddad right between the fricking eyes, then wisely took off running, I fell out of my chair. When I finally quit laughing, I pulled a dollar out of my wallet and gave it to the youngster for providing the perfect Kodak Moment. What a vacation. Thank you, Lord.
.