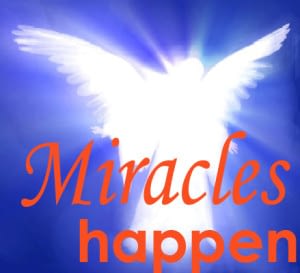 (Editor's Note: After the previous post on abortion, I'm not sure how to get back to funny. So I decided to publish this piece about "my miracles". I wrote this and three other stories as part of what I'd hoped would be a book on miracles. That did not happen, so this will.)
———————————————————————————————————————————————————————————————–
One of the hardest things I ever did was emigrate to New Zealand in 1993, but that's what was required by my young family.
My Mom had a chronic, debilitating lung disease that not even the Centers for Disease Control could diagnose. I knew she was not going to get better. So moving halfway around the world was really hard.
Thankfully, we got to stay with Mom and my step-dad C.B. for about a month while waiting for NZ Immigration to give us the go-ahead.
The delays and red tape about drove my Missus crazy. But I saw it as a time of grace that gave me precious extra time to spend with Mom. This was enormously important to me, because I didn't know if I'd ever see her again.
We made the most of our time, cherishing the simple things. Mom and I would take short walks, talk, eat, play with my 4-year-old son, Eli, and laugh a lot. Then at night, I would beat Mom.
Either using a hand-held pounding machine or the cup of my hand against her back.
Afterward, Mom would work as hard as she could to cough up the phlegm that was trying to kill her. The massive nightly effort would leave her breathless and exhausted. For the rest of the night, she'd sit quietly, breathing oxygen, trying to recover, and watching her son, his wife, and her grandson who were soon to move to the other side of the world.
You can imagine the flood of tears when we left for the airport.
But my tiny Mom was tough. Despite her mysterious disease, she hung in there. After we got settled into New Zealand, Mom, her oxygen bottle and C.B. came for a visit. It gave her peace to see where we lived and to be reassured that we were safe and had a good life.
When she went back to the States, Mom's chronic lung condition got progressively worse. It weighed heavily on my mind, and my heart, and created an impossible dilemma for me. I was a senior manager in a small P.R. firm, and the sole bread-winner in my family. I could not jet home every time Mom's health took a turn for the worse.
A dozen times a day, I'd ask myself, "When should I go home? What if Mom dies before I get there? What if I go home and she gets better, and I fly back to New Zealand, and then she gets worse again? What if I can't get the time off? What if I have to quit my job to go? How will I pay for my family's needs?"
I prayed countless rosaries, seeking answers and peace. Even so, the constant worry was wearing me down. I just did not know what to do.
Then one Sunday afternoon in 1995, I was in my bedroom in New Zealand, ironing my shirts, staring out the second-story window, worrying about Mom, praying, and sighing to the depths of my weary soul.
That's when I *heard a woman's voice say, "Go home."
Inner Locutions
I didn't actually "hear" the words with my ears. I heard them in my heart. This phenomenon is called "inner locution."
Stuff like that might happen to holy people and visionaries in Fatima or Medjugorje, but they didn't happen to guys like me from Norman, Oklahoma. Even so, I didn't question its authenticity. Not for a moment. I knew it was a gift from God, delivered by the Blessed Mother. I knew it was her voice. And that was good enough for me, so I booked the earliest flight home I could get.
It was a wonderful visit, filled with grace and miracles.
Mom was trying to recover from a very bad spell. But she was alert and we got to talk every day, until she wore out. When that happened, my two older sisters and I – who had gathered at Mom's — would laugh it up and, basically, be stupid so Mom could enjoy her "goofy chillens". Mom would just inhale her oxygen, smile every now and again, and fight to stay alive.
After about a week, I had to fly back to New Zealand, once again carrying a backpack full of guilt, not knowing if I'd never see Mom again, always dreading "the call" from my sister Lynn. She had assumed the main responsibility of looking after Mom. We agreed she would decide when the end was near, and I should race home. It was a terrible, terrible burden for someone to bear, but she was the eldest and it fell to her.
Mom's health continued to slowly fail. The nasty steroids that she hated, but which had kept her alive, finally stopped working. Her frail, little body was packing up. And so Lynn made the call. All I remember her saying was, "Billy, you need to come home now." I was pretty much on the next plane.
Mom was so very weak when I got to St. Francis Hospital in Tulsa. But over the next few days, she had her moments. Occasionally, we would have coherent conversations, where Mom knew who everyone was and she wasn't any "whiffier" than she'd been for years. Those times were an absolute blessing, but they weren't what I would call a miracle.
Except for the Angels
Then Mom started mentioning the angels in her hospital room. Cathy, my tall, beautiful middle sister, asked Mom to describe them. Mom pointed to her left, where she saw several "beautiful, beautiful" angels. Even though Mom had to gasp for every breath, her face would reflect some slight relief, even wonder, when she talked about her angels. She loved them so.
Mom was afraid to look towards the right side of her hospital room where she saw dark angels. My practical, Protestant sisters told Mom to just look at the good angels and ignore the other ones. Since I'm Catholic, I secretly spritzed the room with Holy Water that I'd brought from New Zealand. I asked the Blessed Mother to send millions of angels to protect Mom, to calm her spirit, and to prepare her for the journey home.
Some days later, after a very long, hard day for her, I could tell that Mom was deeply troubled. I came close, held her hand and patiently waited for her to speak. Mom said she needed to talk to me. She didn't want to burden me. A mother shouldn't do that to her baby boy. She said how much she loved me, how proud she was of me, how great a job I had done as husband and father.
She didn't want to upset me, but she needed to ask my permission to die.
The memories still make me tear up: holding Mom's still-strong right hand, telling her I loved her more than anything but that, if she had to leave, all she needed to do was go, because we'd packed her bags with love, and we were ready. After our talk, you could just see the relief flood into her body.
For many years, my tiny, shriveling Mother had carried the cross of her terrible debilitating illness, almost without complaint. Despite all the pills and doctor's appointments and insurance worries. The 24/7 oxygen. The back-beating machine. The "d-a-m-n" steroids that made her shake. And her relentless, wracking cough.
Mom could carry her cross because she believed, by doing so, she was preventing anyone else in her brood from having to bear it. I don't know where she got that idea, but she held to it tenaciously. Maybe it was just her way of coping. Maybe it really was an agreement she had with God.
But, by then, she was 69. She was ready to put down the heavy cross and go home.
We all knew it wouldn't be much longer, so we never left Mom alone. Because I had no other responsibilities, I tried to be there all the time, unless I had to eat, or go to the toilet, or call my New Zealand boss for an incredibly difficult conversation, on both sides: "I don't want to pressure you, but when do you think you might be coming back?" … "I just don't know. I don't know when my Mom is going to die."
19 Years Ago
On her last night with us, 19 years ago today, Mom seemed stable, so we all agreed I'd stay with her while everybody else went home for a break; Cathy to Oklahoma City; and Lynn, her husband Tony, and C.B. to Eufaula. They were all bone weary from sleeping in Mom's hospital room or driving back and forth, back and forth so many, many times.
It was a quiet, uneventful night until a new, young doctor came in. She looked at Mom's charts, examined her, and started shouting directly into Mom's ear, as loud as she could. She got no response, so they quickly wheeled Mom to I.C.U. Even though I was 40 years old, I felt very much like the "helpless baby brother" as I searched for a phone to call my sisters.
I got hold of Lynn's son, Dawson, in Eufaula. As soon as Lynn and Tony got home, they all got right back in the car, picked up C.B., and raced to Tulsa, a 90-minute drive which they did in about an hour. When I got hold of Cathy, she had literally just walked in her front door in Oklahoma City. She turned on her heels and blasted back to Tulsa in her Camero. I think she did the two-hour drive in half that.
Lynn, Tony, C.B. and Dawson got to the hospital first. They saw Mom's room empty, panicked, then ran to I.C.U., where we'd been for awhile. And we prayed so very, very hard.
As the only Catholic, I was praying my rosary, asking for supporting prayers from the Communion of Saints (which includes the Church militant on Earth, the Church Suffering in Purgatory, and the Church Triumphant in Heaven), and asking Mother Mary to hold my Mom's hand when it was time for her to go to Jesus, our Lord.
Lynn prayed but, ever the "Big Sister", she also talked to Mom. "Mother, I know you're tired and ready to go, but, please, you have to hang in there just a little bit longer. You have to wait for Cathy to get back to tell you goodbye. It won't be long. You know how fast Cathy Jean drives. Just wait a little longer, Mom."
As the minutes dragged by, my eyes flicked from all the machines, to my watch, to Lynn's clenched jaw, to Tony's worried brow, to C.B.'s blank stare, to Mom's emotionless face. We were "holding onto" Mom, giving her our strength, willing her to stay until all her children were gathered around. When Cathy burst into the room, stressed to the max, we all let out a huge sigh of relief.
After a few minutes to compose ourselves, each of us told Mom how much we loved her, that we were all there, and that she could go home whenever she was ready. We circled around her bed. I was holding Mom's right hand. Lynn held her left hand. Cathy was at the foot of the bed, with her hand on Mom's leg. Then, along with C.B. and Dawson, we prayed the Lord's Prayer aloud, then we prayed quietly, and waited.
I wasn't watching the machine that monitored Mom's heartbeat. I only realized she was gone when Lynn began to wail…
While Mom's death was one of the hardest things I ever endured, it was also one of the most grace-filled. There is no question in my mind that miracles abounded during Mom's last hospital stay, and at the hour of her death.
Only later, did I learn that there was even more to the story.
Some weeks previously, Mom had been naughty. She decided to sneak off to Oklahoma City and have a small surgical procedure done on her eye, unbeknownst to any of us. It went badly wrong, and Mom died. They resuscitated her, thanks be to God, even though that was against the specific instructions in her Living Will. Afterwords, she told Cathy that she'd had a foot in both worlds, but just couldn't leave until she'd told us all goodbye.
I will forever be grateful for that. Because it let me come halfway around the world, to hug and enjoy my whiffy Mom's company, to listen to her talk to the angels, to give her my permission to die, and to be with my family at her bedside, praying, when she finally let go and let God bring her home.
Do you believe in miracles? I do. I've seen so many.
——————————————————————————————————————————————————————
*It really happened just like that.
Click HERE to read about even more miracles. I was there. I know they happened.
CLICK HERE to see a photo of my Mom and read some "Momories".