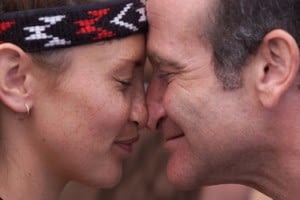 I'm not sure why the death of Robin Williams has hit me so hard; why this thing's weight is so heavy, so suffocating, so oppressive.
It may be because initial reports of his death said it was self-inflicted asphyxiation.
Rightly or wrongly, that gave me a ghastly image of poor Robin hanging himself.
Rightly or wrongly, it made me think that the demons he battled so long and so hard, finally convinced him with their lies.
That it was all too hard, too pointless, too over. That whatever he had done was unforgivable. That no one cared anyway. So he should just end it all.
When such a kind, enormously talented person like Robin Williams falls like this, I just feel so very sad.
I feel so sorry for Robin and his suffering but, a thousand times more, for his loved ones, especially his children.
They now have to live with this.
They have to decide to live with this unbearable pain, or follow him out.
Unchecked, unaided, pain follows pain. Cycles repeat. Demons roar.
And so, our hearts are on the ground.
I just went to noon Mass, to pray for what burdens me, and to pray for Robin and his family, for what is right now trying to crush the very life out of them.
I really cannot image the awfulness.
A Good Idea
On Twitter, someone suggested that we should all watch one of Robin's wonderful movies tonight, and then make a donation to a suicide prevention charity.
I plan to do just that.
But I also plan to keep Robin and his family in my prayers. I hope you will, too.
And if there is someone you know who is fighting this particular battle with the black dog, now would be a very good time to go hug them.
I'll attach this New Zealand Herald story link because I was surprised by Robin's love of NZ. You might like the story, too.
R.I.P. Robin.
.