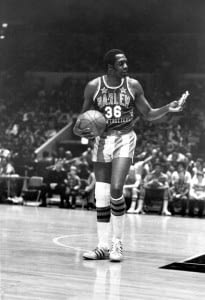 "My leg, my leg!"
Poor Meadowlark Lemon would hold his leg and wail in agony.
So loud that everybody in the huge basketball arena could hear him.
And, somehow, as his teammates helped him limp around the court, in comedic agony, the magic would happen.
The Globies would introduce the basketball that would not bounce.
Or the lopsided ball that would roll down the court like a drunk.
Or the water bucket filled with confetti that Meadowlark would use to douse a fan.
There was nobody like the Harlem Globetrotters or Meadowlark, the "Clown Prince" of basketball.
Listening to Sweet Georgia Brown still makes me smile.
Meadowlark played in more than 16,000 games for the Globetrotters and was inducted into the Basketball Hall of Fame in 2003.
And I got to see him play in the mid-sixties, thanks to my best friend Steve Madden.
His Dad, Sam, took us all the way to Oklahoma City to see the Globies, and we laughed and laughed and laughed. We never forgot Meadowlark.
He's the reason Steve and I spent every Saturday morning of the world in Building 92 on the South Base, shooting thousands of half-court hook shots (and the occasional kick), trying to be like Meadowlark.
When I grew up, I discovered there was only one degree of separation between me and Meadowlark.
Back in 1979 or so, I was a student journalist at the University of Texas at Arlington. My first assignment for the student newspaper was to interview the great Wilt Chamberlain.
Wilt played with Meadowlark in the 50's and 60's.
He said, "Meadowlark was the most sensational, awesome, incredible basketball player I've ever seen. People would say it would be Dr. J or even Michael Jordan. For me, it would be Meadowlark Lemon."
For me, too. He was the best.