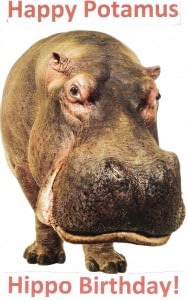 Now THAT is the cover of the greatest 'Happy 26th Birthday' card ever!
And BELOW are the inside pages to said card.
Because that's how we roll in New Zealand.
This is because, when we moved here two decades ago, birthday cards were boring, stupid and outrageously priced.
That led to the creation of Cards by Dad. Motto: we drink and then get cheap and funky (kidding).
I found the Hippo Card while trolling through the Chinese $1, $2, $3 shops.
It made me laugh.  And I know that if it makes me laugh, it will make Junior laugh.
This year, like always, the creative process was:
find a funny/weird/terrible/bizarre card or photo for the cover (see hippo)
start drinking and get funky (kidding, almost certainly)
add a stupid headline
search the Internet for "funny hippo photos"
print out wonderful things
cut them into various shapes
glue them into the card
glue the card together
say grown-up words that in no way resemble 'Happy Birthday'
fix the card, until it is absolutely perfect
put it in the envelope
seal the envelope
take the card out and change something
900 times
This year's masterpiece took hours and hours to painstakingly make by hand.
OK, it took an hour, tops, including 5 minutes for the actual construction.
Cards By Dad are particularly awesome because they look like they were made by four year olds.
Who had been drinking. (Seriously)
I am just that good with scissors and glue and Liquid Paper.
Thankfully, Junior inherited my sense of humor and his Mother's artistic talent, and not the other way around.
About a decade or so ago, Cards By Junior began to feature brilliant cartoons and artwork.
Some were hysterically funny.  Some were filled with wisdom.
Junior gave me the card below after I'd left the most hideous corporate job I ever had.
That birthday found me licking my wounds and trying to figure out how to realize my dreams – with me as a successful writer; the Missus designing her own line of clothes; and Junior recording his awesome music; all in our purpose-built studios inside our new home in the mountains.
The cover words on Junior's card were from Oliver Wendell Holmes: "The great thing in this world is not so much where you stand, as in what direction you are moving."
But the artwork on the cover, and inside, as below, was his:
No, those dreams have yet to manifest, but I will never forget how that card lifted my spirits.  It's still on my window sill.
I have every confidence that the Hippo Card will deeply touch my son in an equally profound and powerful way.
Happy Potamous Day, Son!
And Hippo Birthday.
Love, Dad.
.