The Baby Jesus won't make his appearance for another four days in New Zealand.
Meanwhile, we have done all the decking of halls that can be done.
Unless we get way more halls.
This "paparazzi blog" features Christmas stuff around the house, not actual peoples, who will come later. Boy, will they come.
Let the tour begin
The best Christmas treasures are the ones that Junior made when he was really little.
Like these, which are worth more than gold to me.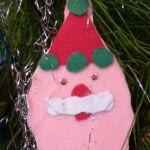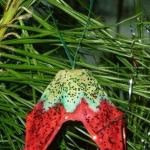 And this gift (below) to his "Mum", which he slaved over for hours and hours, with the precision of a Mercedes Benz Engineer.
And this PhotoShopped Moosedeer (below), which Junior made two years ago, when I was sad, because Christmas without the 100-pound, antler-wearing, sausage-snorking, picture-of-happiness German Shepherd/Huntaway (a.k.a. Moosedawg) was just missing something.
So now Buddy photobombs our Christmas pics, which makes me smile. (The Missus not so much).
So much of our Christmas stuff was accumulated over years and years. Only the Lord knows from where.
Things like wreaths:
And toy soldiers…
And happy Santas.
And a creepy Santa nutcracker.
Yeeesh…
And Christmas animals (plus a token Superhero)…
And other wonderful Christmas sussies…
And Christmas goodies that are now being cooked, that smell SO GOOD, but which husbands MUST NOT eat just yet. (Slap. Ouch.)
And a soundtrack that will never, ever grow old.
And the all-time Christmas movie that's about to be watched.
But first, there's last-minute shopping to be done, so HogsAteMySister will sign off for now and wish you a very…


——————————————————————————————————————————————————————–
Christmas Bonus — last year's Christmas blog on ALMOST not buying a Christmas tree.