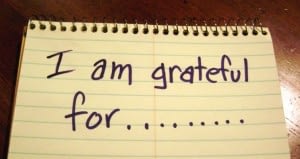 We are sitting here wearing our NHS 30th Anniversary t-shirt and our once-were-nice-until-we-got-yard-chemicals-on-them camo shorts, while drinking a $9 bottle of Heineken.
This means that: we have totally down-tooled for Christmas; we are as per always waiting for the Missus at the mall; and we're getting gouged by this flashy new restaurant.
We have two hours up our sleeve while the Missus gets "just-a-few-things", so we shall spend it writing this blog on GRATITUDE, because this is not something that comes naturally to Hogs but is a good think to think about. Here goes:
We are grateful for:
Junior kicking ass and taking names this year musically, including his five-month, world-cruise gig on Crystal Serenity, writing some bodaciously awesome new tunes, gigging with some pretty awesome Kiwi muzos, and even scoping out the studio he wants to record in;
Having three BIG months of consulting work this year, which covered the lean months of meh;
The legion of quackers who have been given 5-Star treatment in Duck Med and given the Missus months of joy (and something to focus on instead of Hogs);
My internet writer buddy, the indomitable Kris Wehrmeister, publishing the funniest book written in, conservatively speaking, the last 900 billion years, which you can download right this minute by going to Santa Amazon right HERE;
Buying a wee camper van and actually taking it out twice before life started getting in the way;
The Good Lord looking after Junior when he got jumped by a mongrel outside the library, in broad daylight. The medical care was great, and everything healed up nicely. It could have been so much worse;
The dentist the blog had to go to when a crown fell off was providentially located right next to a pub that had actual pain-killing beer;
The blog's best buddy's Mom went to God recently in a very, grace-filled way;
We made it through the entire year without backing the Honda into anything. (Wait. There may be a challenge on this. We need to look at the security footage);
We finally found the Crack Puppy's optimum dose of doggie downers after a period when she was having one or two seizures a week;
Every time the blog was about at the end of his rope this year, a very special person in our lives would ask us to cover for her on Tuesday night for one or two hours' Eucharistic Adoration at church, which always, every time, restored us;
J.J. Abrams did not screw up Star Wars;
The mighty All Blacks won their second Rugby World Cup in a row and New Zealand got a seat on the U.N. Security Council and immediately started messing with the big boys;
Living in New Zealand, means we are missing yet another never-seems-to-stop U.S. presidential election cycle, and, best of all, we don't see the majority of the media madness and meanness that accompanies it;
A month ago, the rough looking old guy at the mall food court saw the blog wildly racing around looking for something and he asked if we'd lost our cellphone. He then pulled it out of his pocket and returned it to the blog, even though what he could have sold it for might have fed his family for a day or two;
We found a wise sports medicine specialist who realized that it's just too risky to operate on the good shoulder of an old blog with one hand, so he just shoots us up with Arnold Juice when the shoulder hurts too bad;
Every now and again, the Lord has let us see how He uses Junior and the blog as His instruments, making a difference in this world, at least in small ways; this despite the fact that Blog & Son are both, genetically speaking, total goobers;
The blog was able to pray, most of the time, for the felluh who attacked Junior, rather than fixate on removing his liver with the big kukri knife we got from a Gurkha in Singapore;
We do not have cable or satellite TV capable of getting the 'turrible' Dallas Cowboys, so the level of our Jerruh-hate has been mitigated … at least somewhat;
Our Sooners might, just might, win another champeenship, to which we say BOOMER SOONER;
We did not "technically" die from the non-flu, flu that kicked our Old Man buttooskies for five long weeks during the Kiwi winter, but it was close;
The Missus completed her Fencing Jihad without any "actual" casualties on any front;
We've been able to look at the chicken-skin texture on our arms and legs, that's becoming more pronounced daily, and yet be happily reminded of Mom rather than cursing the stupid chicken-skin DNA;
We increasingly can appreciate the Oasis of Peace that is our home in Titirangi (Maori translation: "the Fringe of Heaven"); at least when we are not battling Mother Nature with Gardening Tools of Mass Destruction;
We found a cheapo Kia-Ora phone card that lets us call America for just 1.5 cents per minute;
Facebook allows the blog to remain connected to family and old friends, and that it does not make us crazier than we already were … on most some days;
While dealing with Junior's many post-attack visits to medical specialists, we saw a burn victim who had lost her hands and face in a horrific accident and, yet, she was trying her best to live, and she obviously needed a miracle way more than we ever did;
This year, one friend found a job, another moved into his dream home in Cen-Tex, young love was about the place, and a nephew got married;
The blog's family never lacked for food or water or shelter or medical care or other necessities;
And most of all, we are grateful that tomorrow we will go to Mass and remember exactly what Christmas is about — the birth of Jesus.
Yup, HogsAteMySister is grateful for all of the above, and so very much more.
So, from way down under in New Zealand, we wish you peace and faith and gratitude at this special time of year.
Cheers, ya'll.