Although I was, how shall we put this, "late to get in the game", sigh, I had a vivid imagination.
Let's hop in my time machine and go back to my teenage years.
Just to ogle the famous ladies who tripped my trigger way back when.
Complete with semi-relevant back stories.
Whoa.
1. Linda Ronstadt
Remember the poster of Linda with the flower behind her ear?  Yeah, this one.  I must have listened to Linda serenade me with "Desperado" 10 billion times.  I was in lurv. Big time.  Linda even cost me a friendship.  I covered the police beat when I was a student journalist at the University of Texas at Arlington in 1979.  My police contact and alleged friend, Sgt. Roland,  knew I loved Linda.  Yet, when she came to UTA for a concert, and Roland was assigned as her bodyguard when she went jogging on campus, he did not tell me until afterward.  If he had not been armed, I would have killed him.
2. Farrah Fawcett
Of course I had seen girly photos where women got all kinds of nekkids.  But somehow, this poster of Farrah gave me goosebumps.  Her hair.  Her smile. And her lady bumps… Whoa.  As I recall, my poster of Farrah made it through two or three moves.  Sadly, it was ravaged by my roommate, Steve, one night after we'd been "on the turps", as they say down under.  I would have also killed him, except that he had been an All-American swimmer and could have squashed my head like a pimple.
3. Cher
Seriously?  Cher?  I know, right?  But hear me out.  This was from when I was probably 14, and Cher was hot.  When she sang the "V-A-M-P" song on her TV show, while reclining on the piano, I was glued to the tube.  Possibly sad, but totally true.  (Ignore the piano player.  Everybody else did.)
4. Liv Lindeland
Remember when the Playboy Playmate of the Year was given a pink sports car?  The combination of Liv and a Pantera was enough to make me dizzy.  I will not blog the photo of Liv that I pasted to the mirror in my bedroom, where she is wearing a white body suit, that was "open air", because if I did, I would almost certainly never finish this blog.
5. Pony Tail
I don't remember her name. But I will never forget her long pony tail.  Way longer than this.  It belonged to a friend of my older sisters.  When they had their slumber parties at our house, I would be banished to my grandmother's.  Every time, something inside of me died.  I was 6.  And head-over-heels in unrequited love with that pony tail.  Sigh.
6. Lilly Tomlin
You think, I'm kidding, right?  That I was totally shallow, and only ogled stunningly beautiful women.  And you would be right.  But even so, my high school buddies and I decided that if we could choose any girl in the world for a "fun date", we would choose Lilly.  And since this was a "fun date" only, the fact that she was a lesbian would not have been an issue.
7. Bo Derek
Remember the scene from "10", the comedy with Dudley Moore, when Bo came running down the beach, all braids and boobs?
We will not publish that photo here because…
Lawsy.
Lawsy.
Lawsy.
8. Stevie Nicks
I had to look up the word "ethereal" after reading a story about Stevie.  I was transfixed by her beauty, her voice and her lace.  The bird?  Not so much.  Ethereal?  Yep, Stevie was that.  Drowning, in a sea of love.  Where everyone, would love to drown.  Oh, momma.
9.  Heart — The Wilson Sisters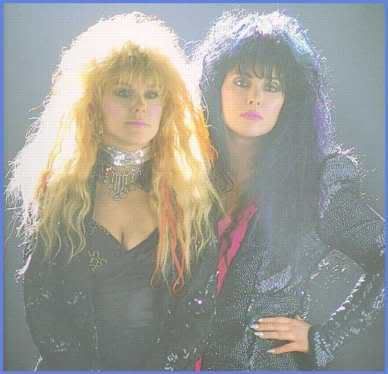 Two, count them, two hot sisters, singing, "Heartless. Heartless. Never, ever out of control. No. No."   My. My. My.
10. Tina Turner
Simply the best … legs … ever… Moving at 10 million miles an hour through Nutbush City Limits.
In summary
So, class, to summarize today's visit down Teenage Hormonal Memory Lane — Whoa!
——————————————————————————————————
Click HERE for other Oklahoma stories.