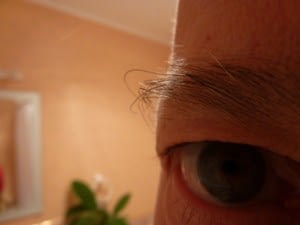 "You've been cutting your eyebrows again, haven't you?"
Says the Missus.
In that tone that your Mother used to use.
When you had been very bad.
So I man up and give my answer.
"No, I have not."
And I quickly walk away because, I may look stupid, but I'm really not.
See, you reach a point in life when you get Deranged Old Man Eyebrows.
There is nothing you can do about them. Like Abs of Pudding, they are part of the cycle of life.
I try to ignore my Deranged Old Man Eyebrows (D.O.M.E.), but when they start getting stuck in my glasses, they make me crazy.
Sometimes, I rip those suckers right out of my head, but I prefer not to do that for two reasons.
First, because I have so little hair left on the top of my head, I have an emotional attachment to the hairs that are still with me.
Second, these D.O.M.E. hairs have seriously deep roots. When you yank one out, it really, really hurts, so bad that you expect a stream of blood to squirt right out of your head.
So, to salvage our existing hair, and preclude the possibility of eyebrow blood squirting onto the Missus' new bathroom wallpaper — which we do not even want to contemplate — every now and again we decide to "trim" the offending D.O.M.E.s.
Now, if you are a loyal follower of this blog, you will know that our skill with tools is legendary, as per the gate latch below.
We live by the motto, "close enough is good enough."
So when the mood strikes us, we grab whatever tool or utensil is handy, and we proceed to hack away at the D.O.M.E.s.
The utensils of choice have historically included tiny little scissors that will not cut anydamnthing; toenail clippers; and the giant scissors in the kitchen that, according to a TV commercial, can cut right through a beer can.
This may explain why the Missus, who is a trained graphic artist, gets so aggravated when my hair is not symmetrical, especially my Billy Joel goatee that I grew recently while on holiday in America.
I figure I'll trim it with my eyebrow scissors and the hedge trimmer. Close enough is good enough, mate.
The Missus will be thrilled.
—————————————————————————————————————————————————————————–
.